Drew Alcazar - Phoenix, Arizona
1969 Boss 302 Mustang #70 - Originally driven by Warren Tope and Dick Roe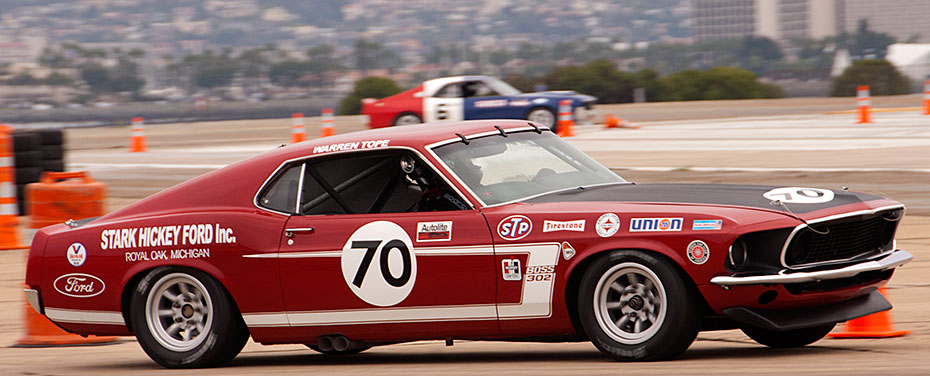 This car was an inter-company transfer to Transmission & Chassis Division from Ford Motor Company. Donald Tope (Warren's father) was head of that division.

The car was built as A/S in 1969, and then underwent more development in 1970. It was worked on at Kar Kraft and at Warren's shop in that area which he shared with Ed Hinchcliff. Later the car was worked on at Bud Moore's shop. Donald Tope often asked some of the Kar Kraft engineers to work on Warren's car, including Lee Dykstra, Lee Morse, and Mitch Marchi. The car got some very special attention and was built well.

Warren Tope Drove in the following 1970 Trans-Am races: Mid-Ohio (17th), Donnybrooke (DNF), Road America (12th), Mt. Tremblant (9th),& Watkins Glen (DNF).

At the end of the 1970 season Warren purchased the 1970 X Follmer car and drove it in 1971 and 1972, but continued to own this car and rent it out to Gene Harrington at several races during 1971.

Late in 1971, at the SCCA runoffs, Warren had a problem with the Follmer car and had his original car delivered to the runoffs. He won the SCCA A/S in this car. This has been verified through Gene Harrington. In 1972 Warren sold this car to Dick Roe who entered two Trans-Am races.



HOME | ABOUT US | CARS | DRIVERS | ROSTER | SCHEDULE |EVENT PHOTOS | TRANS AM HISTORY |E-MAIL