Ed Dwyer - Los Angeles, California
1970 Camaro #13 - Originally Driven by Warren Agor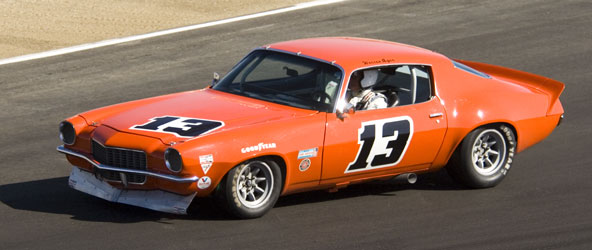 This car is believed to be the third Chaparral Factory Team car that Chevrolet gave Jim Hall to build into a race car.

The car was severely wrecked during testing at Laguna Seca and never raced during 1970.
Marshall Robbins purchased this car from Jim Hall after the 1970 Trans-Am season. Robbins painted the car orange and black and numbered the car 24. He drove it for the 1971 season only.

Warren Agor of Rochester, New York, bought the car from Robbins in late 1971. Agor changed the color to Hugger Orange and the number to 13. Hoselton Chevrolet sponsored the car for the three years that Agor drove the car. Agor had the best and most consistent success with the car. Midway through the 1972 season he was second in total Trans-Am points, and finished the year in 4th place.
In 1974, the car was sold to Joe Gonzales of Miami, Florida. He raced the car in IMSA and GT classes until the late 80's.

Restoration was started in 1992 and completed the next year. It was decided to restore the car as Agor ran it in his famous #13 Hugger Orange color, so the way that you see it today is the way it would have looked in 1972.
Best Finishes

1971
Lime Rock
5th
Marshall Robbins
Bryar
6th
Marshall Robbins
Riverside
5th
Marshall Robbins
1972
Lime Rock
2nd
Warren Agor
Bryar
3rd
Warren Agor
Mid-Ohio
3rd
Warren Agor
1973
Daytona
2nd
Warren Agor
Sanair
1st
Warren Agor
Road America
2nd*
Warren Agor

* Fastest Trans-Am lap record of 2.25, 99 mph,
which was held into the eighties.
HOME | ABOUT US | CARS | DRIVERS | ROSTER | SCHEDULE |EVENT PHOTOS | TRANS AM HISTORY |E-MAIL