Karman Cusack - Conifer, Colorado
1968 Mustang # 22 - Originally driven by Bill Maier
Bill Maier special-ordered this car from Hayward Ford in Hayward, CA, in December 1967. It was built in San Jose, CA, on March 9, 1968, and equipped with a close ratio 4-speed Toploader transmission, power steering, heavy-duty suspension and a 390 CID GT Special engine. (The heater and radio were deleted.)

Upon delivery, the Mustang was driven home and placed on jack stands while the engine was removed and prepared for racing.

Bill began the car's racing history in the San Francisco Region of the SCCA. He drove in the 1968 season's Driver's School and Regional events in the A Sedan class with a 302 CID Windsor engine.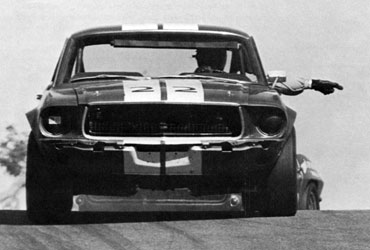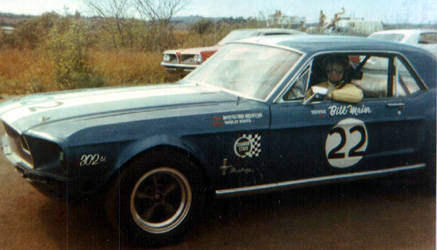 Bill understood Ford was going to introduce the new Boss 302 engine in 1969. He wrote to the Racing and Engineering Divisions to inquire about the availability of this new engine. Early in 1969, he purchased a stock Boss 302 engine directly from Holman-Moody, Inc., -- Ford's racing parts supplier at the time. He raced in SF Regional and National events with this engine and garnered several podium finishes at Cotati, Sears Point, and Laguna Seca.
In 1970, Bill entered the Mustang in the April Trans-Am race at Laguna Seca. He qualified 20th, but did not start due to engine trouble. He continued to race the car in Regional and National events during the rest of the season.

The October Trans-Am race at Riverside was the last event of the 1971 season. Bill entered and qualified the car in a respectable 11th position. On the sixth lap of the race, he encountered ignition trouble and coasted into the Turn 6 runoff area. After many frantic seconds, Bill restarted the racecar and finished the race one lap down in 15th place.

After several additional owners, David Mathews of Guilford, CT, purchased the car in 1996. It was taken to Chris Liebenburg of Racing Restorations, LTD., Danbury, CT, for a comprehensive restoration.

Gary Goeringer purchased the car in May 2001, and returned it to Racing Restorations for additional modifications. The car currently meets 1968 Trans-Am specifications.
HOME | ABOUT US | CARS | DRIVERS | ROSTER | SCHEDULE |EVENT PHOTOS | TRANS AM HISTORY |E-MAIL