Michael Eisenberg - Bend, OR
1963 Ford Falcon Sprint #77 - Originally Driven by James Taylor


Photos by Don Gwynne
Documented History: This is the only 1963 Bodied Ford Falcon to race in the Trans Am series. It competed in the August 14, 1966 Marlboro MD 12 hour Trans American Sedan race and the September 10, 1966 Green Valley TX 6 hour Trans Am race. The driver in both events was Jim Taylor and the Co-Driver was John Walker. This was no trailer queen. It was fully street legal and was driven to every event. The electrical drain from the aircraft landing lights used to illuminate the way during the night portions of the races required numerous battery changes. The car never broke down, and was always able to be driven home at the end of each race.

This Falcon is equipped with all of the proper Falcon Sprint hardware as well as all of the homologated factory rally parts.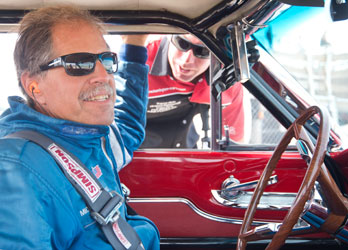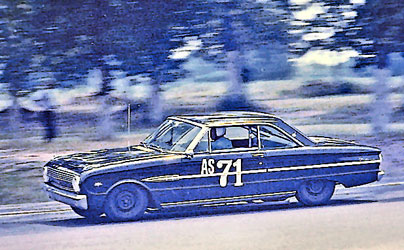 Engine: 289 cubic inch HiPo V8 with C6FE Ford race cylinder heads; 485 HP at 7600 RPM, 392 lb ft Torque at 4200 RPM; Induction: C6ZZ dual 4-barrel intake manifold with 2 Holley 415 cfm carburetors.

Transmission: Falcon Sprint Toploader 4 speed.

Brakes: 1963 Falcon Homologated 11.5? front disc brakes and 11? rear drum brakes

Differential: Ford 9? w/ Detroit Locker, 3.89, 4.11, 4.56 or 4.88 gear ratio

Shock Absorbers: Koni

Body: All steel

Interior: Original type driver?s seat upholstery applied to a steel reinforced fiberglass racing seat, carpet removed, otherwise all original type trim, panels, upholstery and driver controls are intact. Seating for 5.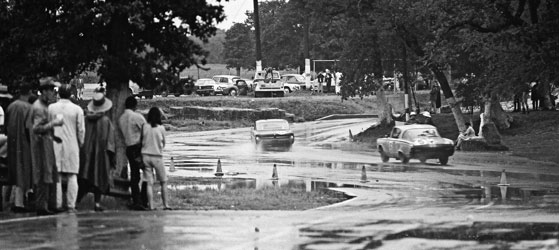 When equipped with mufflers and bumpers, this car is fully street legal and capable of being driven to the races.

This 1963 ½ Falcon was purchased new by Jim Taylor. Carter-Maxwell Auto Service of Oklahoma City, OK converted the car to road race use in 1965. The race conversion was done utilizing parts purchased from Shelby American. Carter-Maxwell was the local Sports Car service shop and Goodyear Racing Tire distributor for the area.
HOME | ABOUT US | CARS | DRIVERS | ROSTER | SCHEDULE |EVENT PHOTOS | TRANS AM HISTORY |E-MAIL