Michael Eisenberg - Bend, OR
1967 Mercury Cougar # 77/79 -"The Bob Estes Cougar" - Originally driven by Mark Waco.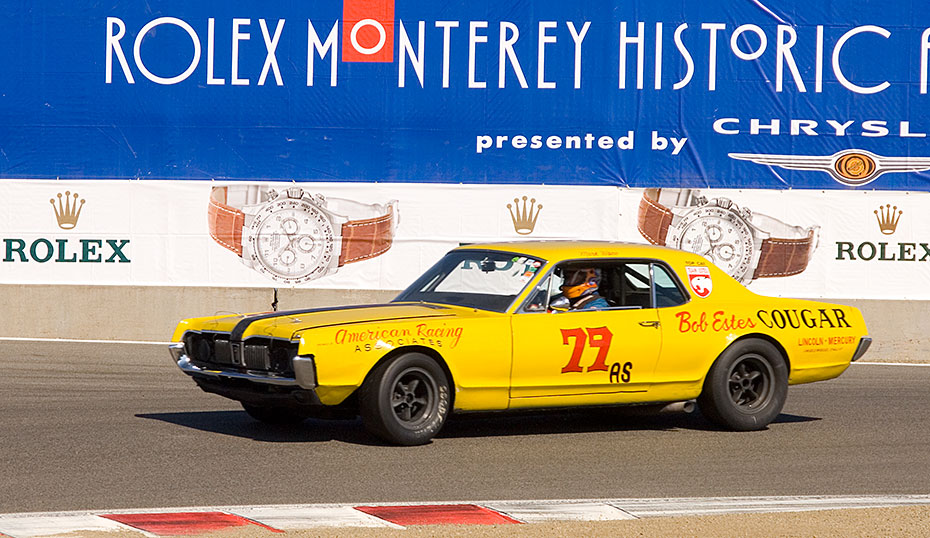 Engine Type: Ford HiPo 289 V8
Cylinder Heads: C6FE Ford H.D. Performance
Induction System: Ford 2-4 BBL Intake Manifold w/ 2 415 C.F.M. Center Squirter Holley Carburetors
Transmission: Borg Warner T-10 Close Ratio
Differential: Ford 9" 4.56 Ratio w/ Detroit Locker & Shelby Overrider Traction Bars
Body: Original All Steel
Front Brakes: H.D. Ford Trans Am brakes utilizing Lincoln Calipers
Rear Brakes: H.D. 10 x 2 1/2" Drums
Shock Absorbers: Koni Racing Shocks
Roll Cage: 6 Point Welded
Gauges: Shelby R-Model Stewart Warner
Wheels: American Torque Thrust Magnesium 8" x 15"
After a successful 1966 season privately campaigning a Shelby GT-350, Shelby employee Mark Waco was able to secure sponsorship from renowned Indy car owner Bob Estes to compete in SCCA racing.

Bob Estes' Lincoln-Mercury dealership provided a 1967 Cougar. The conversion to a road race car was performed by fellow Shelby employee Bernie Kretzschmar, as well as Nels Miller and Mark Waco. Kretzschmar's experience as the main fabricator responsible for all of Shelby's GT-350 R-Model Race Cars and all of Shelby's Trans Am Coupes made him the logical choice to perform the conversion.

All of the special race parts used on the Shelby Trans AM coupes found their way onto this car. In addition, Bud Moore Engineering provided the lightweight front sheet metal and the oversized radiator.

The Bob Estes Cougar with both Mark Waco and Nels Miller driving compiled 6 wins in 10 races in the 1967 season. For the 1968 season, a Tunnel Port 289 engine replaced the standard HiPo 289 for all but the Trans Am race at Riverside. The Cougar won 6 of 17 races. The Cougar was running in 4th place at the 1968 Mission Bell 250 Trans Am race at Riverside, CA before a broken brake rotor put the car back in 15th place.

The car, as it sits now, is exactly as it was at the end of the 1968 season. A total of 7 Cougars participated in Trans Am racing, and only 3 are known to survive today.
HOME | ABOUT US | CARS | DRIVERS | ROSTER | SCHEDULE |EVENT PHOTOS | TRANS AM HISTORY |E-MAIL