Robert Canepa - Diablo, California
1970 Ford Boss 302 #41 - Originally driven by Ed Hinchcliff

Originally built and raced by Ed Hinchliff, a Ford Motor Company Engineer and Trans Am Racer who raced in the Trans Am series from the 1960's to this current decade.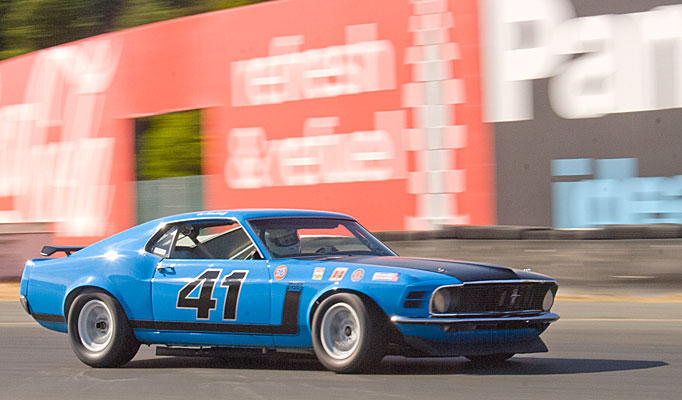 Ed Hinchliff of Ypsilanti, MI, an experienced SCCA Trans Am Series racer and Ford Motor Company engineer, acquired this new body-in-white Sportsroof Mustang in 1970. He then built this Trans Am Boss 302 using parts, contacts, and information, from Ford Motor Company, Kar Kraft, and Bud Moore Engineering. This car had most of the racing component parts that the factory cars had, but none of the factory funding. Ed, whose father was a Ford Vice President, had assistance from other Ford Motor Company employees, both in building the car and crewing during races. They finished this Grabber Blue Boss 302 in time to run Road America and Watkins Glen in the 1970 SCCA Trans Am Series. They campaigned in nine races in the 1971 season, and five races in 1972. Hinchliff, and his crew, did quite well with this car in Trans-Am, with 4 top ten finishes out of 16 races.

The car was then owned by Rodger Pierce until 1983, when partners Ross Myers and Terry Bookheimer purchased the car.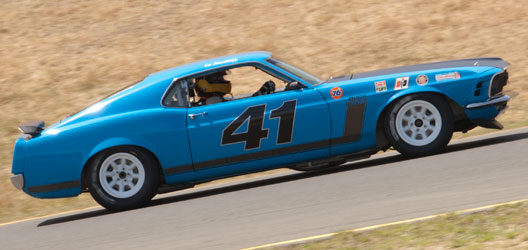 1970 SCCA Trans-AmRoad America - 17th OA
Watkins Glen - DNF 30th1971 SCCA Trans-AmLime Rock - Qualified 17th, DNF 20th
Bryar - 12th OA
Mid-Ohio - Qualified 16th, DNF 33rd
Brainerd - Qualified 15th, 23rd OA
Road America - Qualified 11th, DNF 28th
St. Jovite - 8th OA
Watkins Glen - 10th OA
MIS - DNF 29th OA
Riverside - 7th OA1972 SCCA Trans-Am

Lime Rock - 11th OA
Bryar - Qualified 15th, 17th OA
Mid-Ohio - 10th OA
Donnybrooke - 19th OA
Watkins Glen - Qualified 16th, 16th OA
Sanair Int. - Qualified 18th, 12th OA (Rodger Pierce
HOME | ABOUT US | CARS | DRIVERS | ROSTER | SCHEDULE |EVENT PHOTOS | TRANS AM HISTORY |E-MAIL