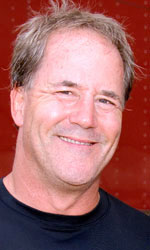 Driver: Brian Ferrin - Sonoma CA
Owner: Robert Kauffman - Charlotte NC
1970 Chevrolet Camaro Z/28

Owned, built, and raced by Walter Parkins, of White Bear Lake, Minnesota.

This Camaro was bought new in April, 1970 in Foley, Mn. After accumulating 94 miles, Walter and friends spent several months preparing it for racing, including building their own rollcage and race engines. Chevrolet Performance helped with parts and pieces and provided engineering drawings detailing suspension modifications. They also 'tunneled' the floorboards in order to recess the 4" exhaust pipes.

The car was ready in time for Walter to run enough SCCA regional races to earn his national competition license.

With it, he went Trans Am racing in 1971, running primarily in the Northwest area and racing as often as his budget would allow.

In 1971 he had his best race weekend at Elkhart Lake, Wi when he qualified 20 and finished a respectable 8th.

For 1972, he entered 4 Trans Am events, with a best finish of 9th at Bryar.
HOME | ABOUT US | CARS | DRIVERS | ROSTER | SCHEDULE |EVENT PHOTOS | TRANS AM HISTORY |E-MAIL