Ross Myers - Boyertown, Pensylvania
1966 Ford Mustang Notchback #10 - Originally driven by Jim Sutter, Dr. Dick Thompson, Ed Lowther,
Wendell Scott, Rick Mandelson, & Rich Shelly.

This car started out as a 1964 1/2 six-cylinder model that Jim Sutter updated to '66 model trim and prepared to FIA Group II spec. The FIA papers are dated 2/21/66.

The car's first race was the Four-Hour Governor's Cup race for sedans at Sebring, 3/25/66. This first T/A race was a support event to the Sebring 12-Hour race. Jim Sutter put the famous racing dentist, Dr. Dick Thompson, at the wheel. For the new Trans-Am series, this was the first car entered and was issued #1.
Thompson was the fastest qualifier and also the first car to score points toward Ford's eventual victory in the '66 season championship. Sutter secured sponsorship from Koons Ford in Maryland. During the 4-Hour Trans-Am, Thompson had trouble with one of the wheel cylinders leaking brake fluid, so they pinched off the steel brake line to that cylinder and continued the race with only three brakes working.

At the 1966 "VIR 400" Trans-Am on July 31, the drivers were Dick Thompson, Wendell Scott, and Jim Sutter. The organizers of the event paid Sutter $500 to put NASCAR driver Wendell Scott behind the wheel. Scott spun and then broke the right front suspension while crossing a drainage ditch trying to get back to the pits. The car was a DNF.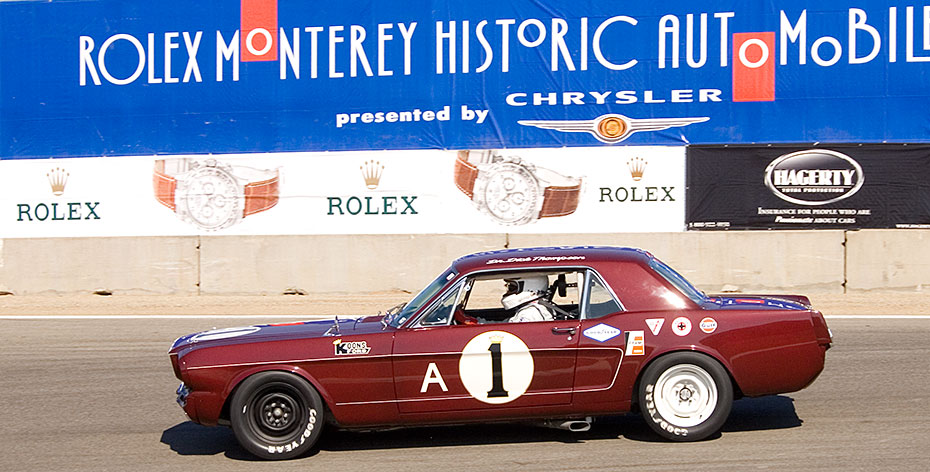 After 1968, Jim Sutter loaned the Mustang and his transporter truck to his friend and fellow racer, Rick Mandelson. The Mustang was missing the starter motor when Mandelson collected the car, so once it was at the race track, he would unbolt the starter from the transport truck and install it in the Mustang for the race. Then he would put the starter back into the transport truck when the race was over.

During the late 1970's, Mandelson added large steel fender flares. Other drivers during this period were Claude Saffer and Rich Shelly.

After several years the car was given back to Jim Sutter -- still missing the starter motor. The Mustang sat at Sutter's warehouse for several years before Steve Pollack from Maryland purchased it to use for miscellaneous parts to be installed on his '66 Shelby Group II notchback, car #4. Pollack eventually placed an ad for the Sutter Mustang in Hemmings Motor News where Ted Thomas and Dale Sale purchased it. Dale took on the restoration at his Alabama shop and, prior to reassembly, placed the car on a frame jig and squared it within 1/64th-inch in all directions. With the car all squared up and everything bolted on, painted and ready to color-sand the fresh coat of Vintage Burgundy paint, he sold it to Ross Myers in early 1989.

It is currently being raced by R/T Racing.

HOME | ABOUT US | CARS | DRIVERS | ROSTER | SCHEDULE |EVENT PHOTOS | TRANS AM HISTORY |E-MAIL