Ross Myers - Boyertown, Pensylvania
1967 Mercury Cougar #16 - Originally driven by Dan Gurney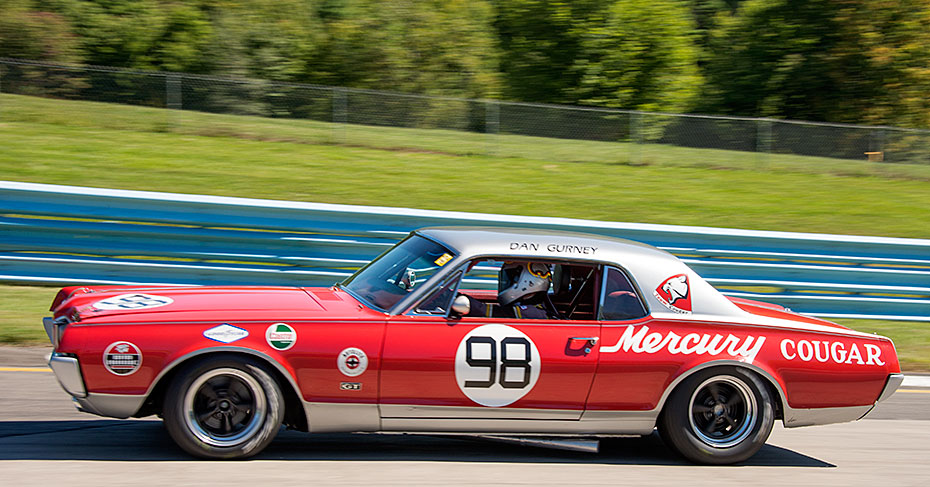 This car was driven by Dan Gurney at the Sebring Trans-Am in March of 1967, as car #16. The Bud Moore Team Cougars had different roll cage designs -- high mounted rearward bars and low mounted rearward bars off the main hoop. This Cougar has the low bars.

After the 1967 Trans-Am season ended, Bud Moore painted the Cougars red/black and prepared them for the new NASCAR Grand Touring race series for 1968. This Cougar for Dewayne "Tiny" Lund, another to Swede Savage, and a third sold to Connecticut resident Paul Pettery. The Pettey Cougar was later wrecked beyond repair at Sebring. Tiny Lund put his Cougar on the pole, won the inaugural GT race at Rockingham, and also the race series that year.
This #16 Gurney/Lund Cougar was later sold to Tom "Tiger" Pistone. A new '69 Cougar outer body skin was installed over the original 1967 chassis. It was driven by Seiichi Suzuki at the 1970 Daytona Citrus 250 as car #59. The car was later used for short track racing up and down the east coast.

The Cougar was found in a storage lot at Pistone's race shop in Charlotte, by Ted Thomas. He moved the car to his warehouse in Alabama, where it sat on blocks until Ross Myers purchased it in 1989. It was restored to 1967 Trans-Am spec by R/T Racing.

It is currently owned and vintage raced by R/T racing.
HOME | ABOUT US | CARS | DRIVERS | ROSTER | SCHEDULE |EVENT PHOTOS | TRANS AM HISTORY |E-MAIL