Ross Myers - Boyertown, Pensylvania
1969 Kar Kraft Smokey Yunick Boss 302 Mustang #13 - Originally driven by Bunkie Blackburn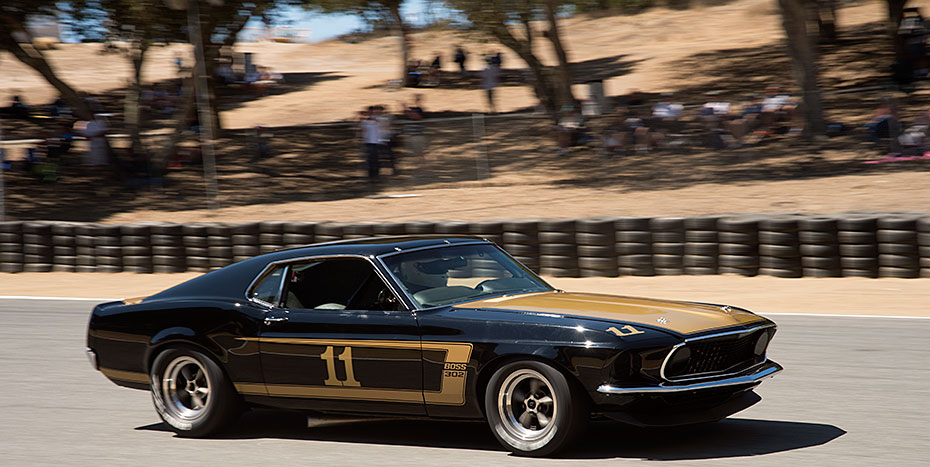 Originally built by Kar Kraft Engineering in Brighton, Michigan, as a turnkey Trans Am race car with full intent for competing in the 1969 T/A season.

Delivered to Smokey Yunick, powered by a twin Holley Dominator Boss 302 engine with a full floater rear, 4-wheel disc brakes in black with gold Boss 302 stripes. Smokey started preparing the car his way for T/A, but before he finished, FoMoCo's Bunkie Knudson decided that this car should go to NASCAR's GT series instead of Trans Am.

Smokey removed the stock steering box, cut out the left rear inner fender apron, notched the frame rail and installed an Australian Falcon (right hand drive car) steering box and idler arm. This new setup created a lot of room for a free flowing custom made header exhaust system. Smokey also used a custom bellhousing that mounted a reverse rotation starter motor to create even more room for his trick header setup.
Smokey entered the car in the 1969 Talladega 400 mile NASCAR GT event with Bunkie Blackburn driving. The #3 black/gold Mustang turned a hot lap of 176.477 mph to win the pole. He quickly lapped the field and was on to what seemed to be a convincing win. Unfortunately a failed rocker arm sidelined the #3 Mustang before mid-race.

After Talledega the car was sold to Ed Rose and used primarily for short track racing. The car was then sold to Rusty Mahan in Texas, where it sat for some time unused. Mahan sold the car to Ross Meyers, who commissioned Brook Mossgrove to restore the car back to 1969 Trans Am specs. Restoration took place from 1989-93. It is currently being raced by R/T Racing
HOME | ABOUT US | CARS | DRIVERS | ROSTER | SCHEDULE |EVENT PHOTOS | TRANS AM HISTORY |E-MAIL