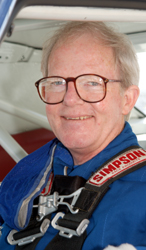 Tom McIntyre - Burbank, California
1968 Sunoco Camaro Z/28 #6 - Originally Driven by Mark Donohue

Street car Camaro Z-28 - Built by Roger Penske, Driven by Mark Donohue
Engine: 302 cubic inch - Weight: 3000 lbs.

Mark Donohue pits the Penske Camaro at the
24 Hours of Daytona in February, 1968.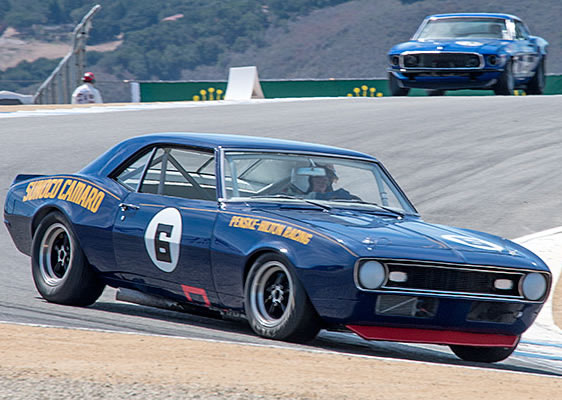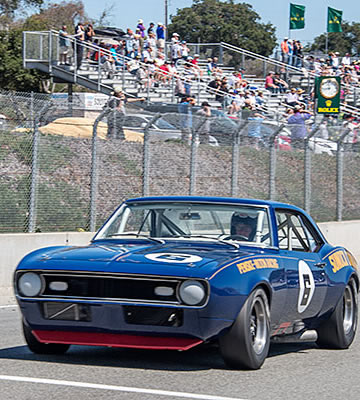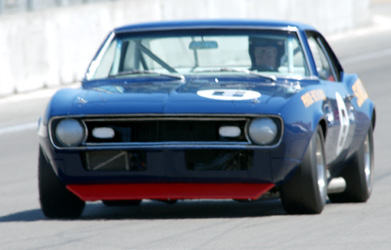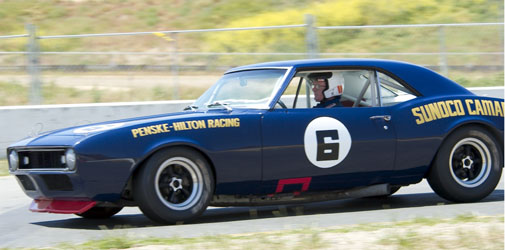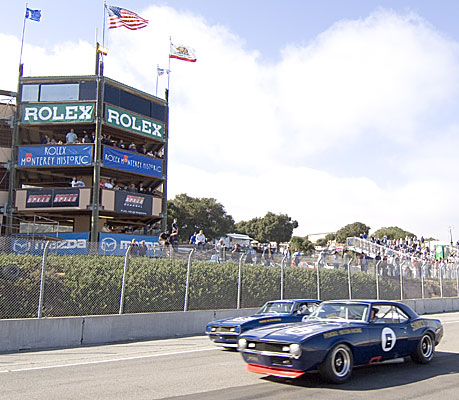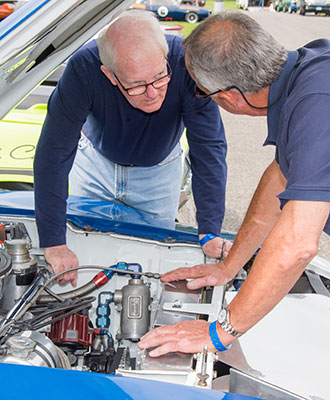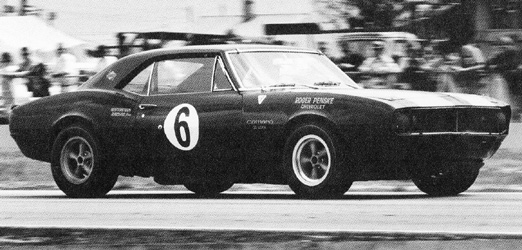 Mark Donohue and George Wintersteen finished second overall in this Camaro Z-28 at the 1967 Sebring event.
This first-generation Camaro Z-28 looks surprisingly stock except for the small front and rear spoilers. However, they had excellent underpinnings from the factory and could be turned into extremely competitive racing cars.

With huge intake and exhaust valves, the 302 V8 had potential for lots of power, and with the most careful assembly and blueprinting, as much as 440 bhp could be produced.
Camaro rear suspension was very simple, with a live axle and semi-elliptic leaf springs. The race cars ran with stiffer items, approaching 200 psi. Positive location was provided by a Panhard rod to control lateral movement of the rear axle. Koni adjustable shocks were fitted both fore and aft.

The stock Camaro's saginaw recirculating-ball steering was upgraded for track use with a quicker ratio for a more direct and responsive feel.

One clear advantage of the small 302 V8 engine in the Z-28 was that it helped with weight distribution. Despite this, the 1967 race cars suffered from terminal understeer, a problem somewhat rectified for 1968, by fitting a correctly sized rear anti-roll bar, larger front tires, and by stiffening the entire body structure.
A small front spoiler mounted below the front valance helped deflect air up and around to the sides of the car instead of underneath. This resulted in reduced front-end lift and an increase in track speeds.

When Ford started acid dipping the bodywork on the racing Mustangs to reduce weight, Chevrolet and Penske had no choice but to follow suit, as the lower weight would make a significant difference in overall performance.
HOME | ABOUT US | CARS | DRIVERS | ROSTER | SCHEDULE |EVENT PHOTOS | TRANS AM HISTORY |E-MAIL