Tony Hart, Moorpark, California
1967 Camaro Z/28 #7 - Originally Driven by Gary Gove, Mark Donohue, Skip Scott, & Max Dudley
Engine: Chevrolet V-8 302 c.i.
The 1967 Alan Green Chevrolet Z-28 Camaro was one of the first two Z-28's to be delivered into the Pacific Northwest in late January 1967 (total Chevrolet production of 1967 Camaro Z-28's is 602).

Prior to its delivery to the customer who ordered the car, the Alan Green Chevrolet race team seized the car and prepared it for the 1967 Sebring 12 Hours race.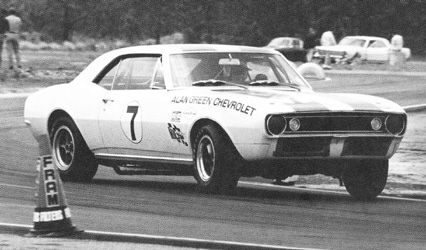 Gary Gove ran well in the Alan Green Chevrolet Camaro
at the four-hour Trans-Am race at Sebring until a
broken water pump shaft ended his race on the 61st lap.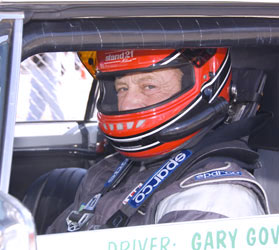 In late March, running in a slightly modified showroom stock condition, the car competed in the Sebring 12 Hours to a DNF finish. Upon completion of the Sebring event, the car was delivered to Bill Ellis Racing in North Wilkesboro, North Carolina, where they transformed the showroom stock Z-28 into a Trans Am racecar.

Bill Ellis Racing was heavily involved in NASCAR, preparing the factory Chrysler Plymouths for Jim Paschal. The NASCAR influence in the roll cage, dash, instrumentation, and some of the suspension features are unique to this Trans Am racecar.
In October 1967, while testing for the Kent 300 Trans-Am at Seattle International Raceway, Mark Donohue was asked to test the Alan Green Chevrolet Camaro and upon returning to the pits stated the car handled extremely well, but was underpowered (with the single carburetor). Some months later, a never-before-seen Cross-Ram intake manifold and two Holley carburetors arrived at the Alan Green Chevrolet dealership from an unknown origin (Chevrolet was not involved in racing).

The Cross-Ram manifold was then combined with a TRACO Engineering built motor by the talented people at TRACO Engineering in Culver City, California.

The Alan Green Chevrolet Camaro still runs with this very rare and highly desirable Cross-Ram manifold. In terms of performance, the Cross-Ram induction system has demonstrated itself to be capable of helping produce an amazing 458 hp from the 302 c.i.d. motor @ 7200 RPM. Today we recognize the legendary Cross-Ram intake systeem as being one of the largest contributing factors responsible for helping establish the Chevrolet Camaro as the 1968 and 1969 Trans-Am champion.

The Alan Green Chevrolet Camaro ran selected Trans-Am races in 1967 and 1968. In 1970, the Alan Green Chevrolet dealership closed its doors, at which time Max Dudley purchased the car from Seattle's SeaFirst Bank. The car remained in the Pacific Northwest, racing SCCA "A" Sedan class events, winning the NorPac SCCA "A" Sedan Championship in 1971 with Max Dudley behind the wheel.
Trans-Am Races
1967
Sebring 12 Hour
Sebring Air Terminal, FL
Gary Gove
Continental Divide
Castle Rock, CO
Gary Gove
Modesto
Crow's Landing, CA
Jerry Grant
Mission Bell 250
Riverside, CA
Jerry Grant
Las Vegas 350
Stardust, NV
Jerry Grant/Gary Gove
Kent 300
Kent, WA
Jerry Grant/Gary Gove
Kent 300
Kent, WA
Skip Scott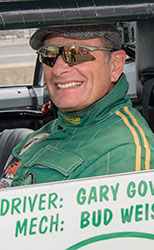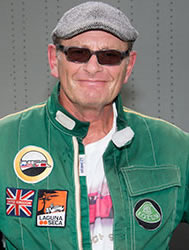 HOME | ABOUT US | CARS | DRIVERS | ROSTER | SCHEDULE |EVENT PHOTOS | TRANS AM HISTORY |E-MAIL