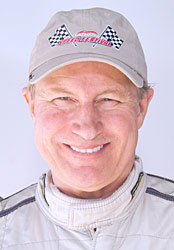 William (Chip) Connor
Reno, NV
1970 Pontiac Trans Am Firebird # 8
Originally Driven by Jerry Titus
This car was the first 1970 Pontiac Firebird off the assembly line.
Engine: ohv V-8 (destroked 400), 305 ci, 450-480 hp. single 4-barrel carb
Transmission: 4-speed
Brakes: 4-wheel disc.
Suspension: forged-steel spindles added to front.
The Pontiac Firebird of Jerry Titus leads Mark Donohue's Sunoco Javelin and
Ed Leslie's Chaparral Camaro through the corkscrew turn at Laguna Seca in 1970.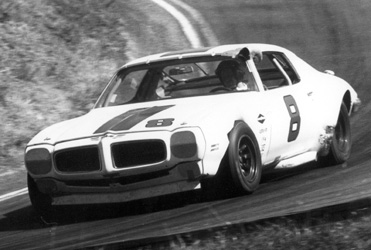 This car was a forerunner of the "street" Trans Am Firebird. With little help from Pontiac, Titus managed to build a car that would compete with the Mustangs, Javelins, and Camaros.

Jerry Titus drives the Pontiac Firebird at Laguna Seca in 1970.
In 1970, Jerry's only finish in the Pontiac Firebird # 8 was 7th at Laguna Seca Raceway.
HOME | SCHEDULE | ROSTER | DRIVERS | CARS | EVENT PHOTOS | TRANS AM HISTORY | ABOUT HTA | E-MAIL