William Connor - Reno, Nevada
1970 Boss 302 Mustang #15 - Originally driven by George Follmer & J. Marshall Robbins
Documented History:

In addition to the three cars built by Ford, Kar Kraft, and Bud Moore for the 1970 Trans Am season, four extra chassis/bodies were assembled late in the 190 production run. Delivered unpainted, they became knows as "bodies in white." Body in white #21971 was completed in mid '71 and replaced chassis #212775 at St. Jovite, where George Follmer qualified 2nd and raced it to 2nd. At Watkins Glen, Follmer captured the pole and finished 2nd. At Michigan, in what would be Bud Moore's last Trans Am event, Follmer both qualified and finished 2nd. Follmer had driven with car #16 the prior two years, however Bud Moore always preferred the #15 for his number one driver/chassis combination and for 1971 that was Follmer. At the end of the '71 season, #21971 (along with #11971) were sold to Marshall Robbins of Indiana, who painted them red and white, converted them to dry-sump oiling and power brakes, and ran them in Trans Am. Robbins' primary car was #21971, which only suffered damage once, in '72 at Lime Rock. Brian Ferrin purchased the car from Juan Gonzalez in 2003, freshened it up mechanically, and returned it to vintage race events.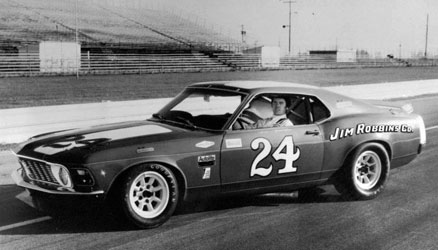 Other than being repainted, the car is an original, unrestored car, and has remained remarkably intact throughout its life. Most of the sheet metal is original, including most of the "lightweight" panels used in its original construction. The original "dry-deck" motor (not currently in the car) is intact, as are the specially geared toploader transmission, full-floating rear axle assembly, special steering linkage, Kelsey Hayes floating brakes, trans and diff gear lube coolers and pumps, brake ducting, brass radiator and shrouding. While perhaps not the most sparkling example of the few surviving factory Trans Am Boss 302 Mustangs, it remains perhaps the most original.
HOME | ABOUT US | CARS | DRIVERS | ROSTER | SCHEDULE |EVENT PHOTOS | TRANS AM HISTORY |E-MAIL