Jerry Titus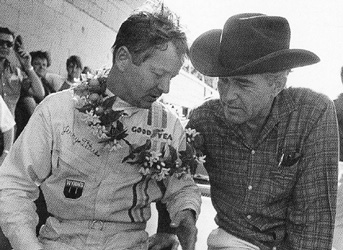 Jerry Titus and Carroll Shelby
In 1967, Jerry Titus was the Trans-Am Champion. In 1968 and 1969, he was third in the Trans-Am series.

He had 43 career races with 4 wins in the 1967 race season. He had 5 poles, and 7 wins in his career as a driver or co-driver.
Jerry Titus,Shelby Mustang & Mark Donohue,
Penske Camaro-Daytona-February 1967

Jerry Titus receives the trophy after winning the
four-hour race at Riverside in a Mustang
prepared by the Shelby Team.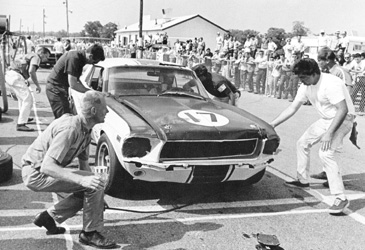 Jerry Titus makes a pit stop at Green Valley in 1967.
In the final 1968 Trans-Am race at Kent, the big news was that Jerry Titus had left Ford. Terry Godsall, a young Canadian businessman, offered Jerry a chance to run a team of his own Pontiac Firebirds.

In going with Pontiac, Titus found that he was handicapped by the need of a great deal of developmental work, especially on the engine. Early on, Godsall pulled out of the Trans Am series, saying that the SCCA was inconsistent in its rule enforcement policies. Jerry then carried on the administrative responsibilities as well as driving for his team.

In 1970, Jerry Titus decided to stop building Firebirds for customers and concentrate on his own race cars. 1970 was Jerry's last season.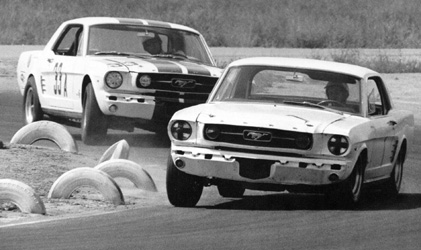 The first Trans-Am race for Jerry Titus was at Riverside,
HOME | ABOUT US | CARS | DRIVERS | ROSTER | SCHEDULE |EVENT PHOTOS | TRANS AM HISTORY |E-MAIL