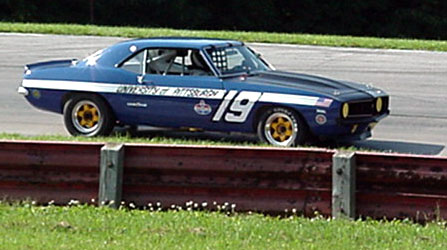 John Miller
1969 Chevrolet Camaro #19
Originally driven by Bob Fryer, Paul Hecker, & Frank Herchick
This was the University of Pittsburgh Road Racing team Camaro.
Bob Fryer was the driver. The 1970 24 Hours of Daytona was the car's first event, and Fryer and the "Pitt Crew" campaigned the car throughout the 1970 and 1971 seasons, competing in Trans-Am and SCCA events.

They were Invited to the ARRC runoffs in 1971. The car qualified 2nd, next to Warren Tope, but did not finish due to clutch failure. The car had a first place finish at Bridgehampton in 1971.

Bob Fryer had close ties to Mark Donohue and Roger Penske, and this car has a very strong resemblance to the Penske Camaro. (Penske donated their Javelin mule car to the University in late 1971.)

Paul Hecker purchased this Camaro in 1971, and raced in SCCA Trans-Am and IMSA GT-1 events from 1972 through 1974.

Frank Herchick, then purchased the Camaro and ran in the same events through 1977.

The car was found in a warehouse in Florida, mostly intact in 1990. Its restoration was completed in 1992. I purchased the car from Paul Russ in October of 1993.

The number 19 University of Pittsburgh Camaro was one of most recognized and well known non-factory cars to compete during the heyday of the Trans-Am era.
HOME | ABOUT US | CARS | DRIVERS | ROSTER | SCHEDULE |EVENT PHOTOS | TRANS AM HISTORY |E-MAIL