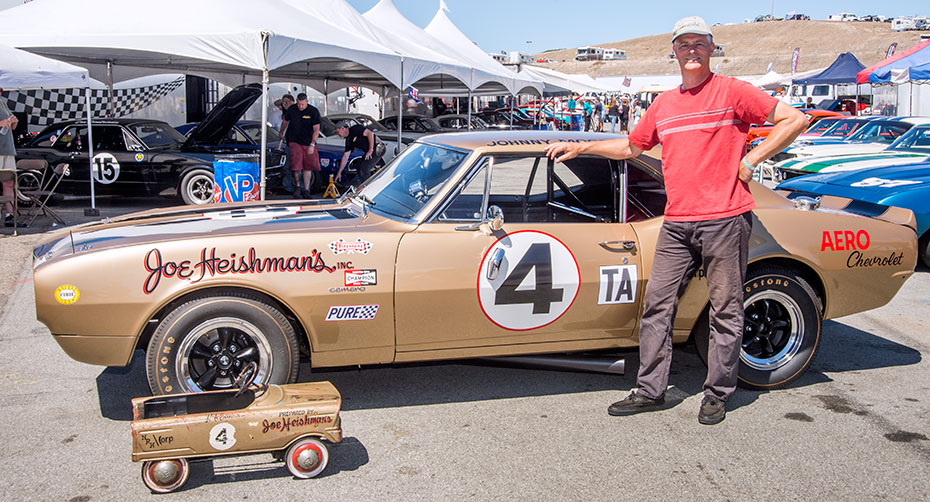 Jon Mello - Lompoc, California
1967 Chevrolet Camaro Z/28 #4 & # 39 - Originally Driven by Johnny Moore, Jim McDaniel, & Jim Murphy
Engine: Chevrolet V-8 302 c.i.

Johnny Moore's Camaro and the Mustang of Jerry Titus at Daytona in 1968.
Photo: Michael Booth

Johnny Moore and his Camaro.
Photo: Hugh Heishman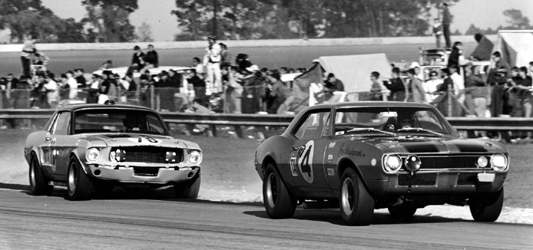 Johnny Moore's Camaro leads Sam Posey's Mustang in the 1968 Daytona 24 Hours.
| | |
| --- | --- |
| Johnny Moore in the 1967 Daytona 300 Trans-Am race. | Johnny Moore in the 1968 24 Hours of Daytona. |
| In the rain, Johnny Moore's Camaro leads the under-two-liter winner, Bert Everett, at the Bryar Motorsport Park, N.H. event. | Johnny Moore's gold and black Z-28 crosses the start/finish line at the Marlboro 300 Trans Am, August 12, 1967. The car DNF'd due to a broken rear axle. |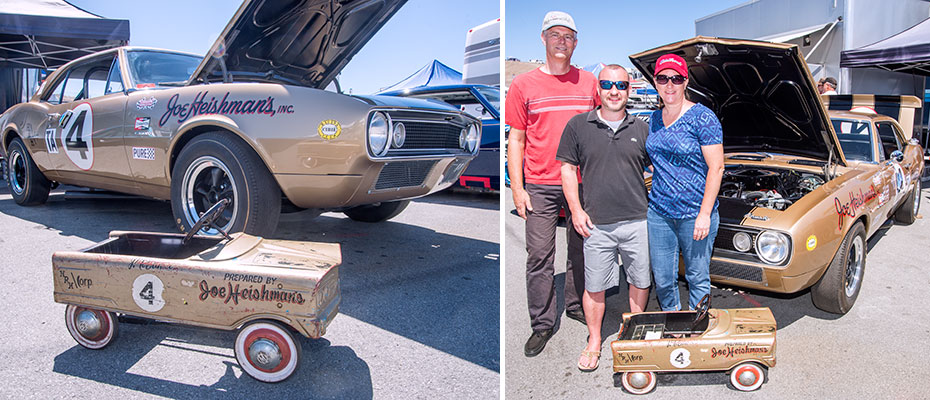 Documented History:

The car was purchased new from Aero Chevrolet by Hugh Heishman, a VW/Porsche dealer from the Alexandria, VA area.

It was raced by Johnny Moore primarily during 1967, with Jim McDaniel as an occasional co-driver. Jim Murphy co-drove with Moore for one race in 1968. According to records from Vince Piggins' files, this is the very first production built Z-28.
Race results:

Daytona 300 Trans-Am, 2/3/67, DNF
Sebring 4-hr Trans-Am, 3/31/67, 17th
Cumberland SCCA National, 5/13/67, 1st
Mid-Ohio Trans-Am, 6/11/67, DNF
Paul Revere 250 (Daytona), 7/4/67, 5th
Bryar 250 Trans-Am, 8/6/67, 10th
Marlboro 300 Trans-Am, 8/13/67, DNF
Daytona 24-hr (Continental & Trans-Am), 2/4 thru 2/5/68, DNF

After the Daytona race in 1968, it was turned back into a street car and went through a series of owners until I bought it in 2000. I am currently working on restoring it back to its racing configuration. I have spoken with Hugh Heishman and Johnny Moore about the car and was indeed lucky enough to get the original sales invoice from Aero Chevrolet for the car from Mr. Heishman.
HOME | ABOUT US | CARS | DRIVERS | ROSTER | SCHEDULE |EVENT PHOTOS | TRANS AM HISTORY |E-MAIL