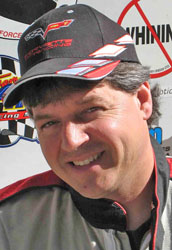 Mike Haemmig - Nevada City, California
1967 Chevrolet Camaro - Owned by Mike and Dana Haemmig - Originally driven by Thomas F. Lynch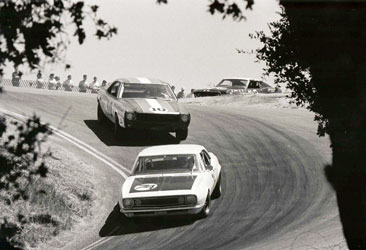 Tom Lynch's Camaro leads the Javelin of Ron Hunter down through the
Laguna Seca Corkscrew as Parnelli Jones' Boss Mustang closes in.
Photo by Dale von Trebra
This car is one of four cars prepared by Dana Chevrolet during the 1967 season for Trans-Am racing. Dana prepared one blue and one white SS350 from their lot to Z-28 racing specs, including Traco-prepared 302 engines. The blue one was for Dick Guldstrand, their dealership performance manager. The white car was prepared for Dick's friend Tom Lynch. Two real Z-28s were also prepared at Dana for Ron Tonkin Chevrolet in Portland, Oregon. These two Tonkin cars have not been located. The blue and white Camaros were prepared quickly by Dana for entry in the Sebring Trans-Am on 3/31/67.

At the '67 Sebring Trans-Am, Tom Lynch had some transmission linkage problems and had an early exit from the race. He then competed at the Las Vegas 350 Trans-Am race near the end of the season.

Tom Lynch did not run in Trans-Am again until the 1969 season when he campaigned his car in three events. These were the Mid-Ohio, Laguna Seca, and Riverside Trans-Am races. Though he had troubles at Mid-Ohio and Riverside, he was able to finish in 12th place at Laguna Seca.

After '69, Lynch sold the car. It is believed the car was still raced in Trans-Am after Lynch but that history has not yet been firmly established. The car has had three paint jobs in its life, first white, then bright yellow, then dark blue. It is believed the yellow paint job dates to the early '70s.

This car was authenticated in 2003 by Bobby Joe McDonald, the original builder at Dana Chevrolet. It is owned by Mike and Dana Haemmig of Nevada City, CA and is undergoing a restoration. Mike is researching the early '70s history of the car. Please contact the Historic Trans-Am website if you have any knowledge of this car's race history from that era.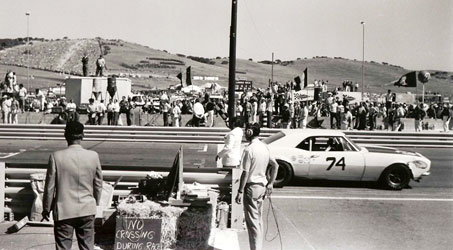 Tom Lynch's Camaro takes the checkered flag to finish in 12th place at the 1969 Laguna Seca Trans-Am.
Photo by Dale von Trebra
DATE TRANS-AM RACE AND LOCATION CAR #

3-31-67 1967 Trans-Am #2 – Sebring, Florida #28
(DNF – Transmission linkage problems)

9-30-67 1967 Trans-Am #11 – Las Vegas 350, Stardust International
Raceway, Las Vegas, NV (DNF)

6-8-69 1969 Trans-Am #3 – Mid-Ohio #74
(DNS – Blown head gasket)

8-24-69 1969 Trans-Am #9 – Laguna Seca Raceway, #74
Monterey, CA (12th place)

10-5-69 1969 Trans-Am #12 – Mission Bell 250 Race, Riverside Inter- #74
national Raceway (DNF)
HOME | ABOUT US | CARS | DRIVERS | ROSTER | SCHEDULE |EVENT PHOTOS | TRANS AM HISTORY |E-MAIL